Episode 16: The mathematics of Ebola
by the Health Ranger Mike Adams

Pandemic Preparedness FREE Online How-To Course
Episode 16: The mathematics of Ebola
00:00 | 00:00

Right-Click the "MP3" button to download this chapter to your computer.
Currently every 1 Ebola results in an additional 1.5 - 2.0 infections within 3 - 4 weeks
The Ebola problem is an exponential problem
In Dallas, Thomas Duncan spread Ebola to at least one additional person (a nurse)
70 medical staffers were needed to treat Duncan, just one Ebola patient
The infected nurse was not on the CDC's watch list
A 98% success rate in stopping Ebola infections is still a huge victory for Ebola that will decimate humanity
The only way to wipe out Ebola is to achieve a near-100% success rate in blocking new infections
Ebola and the CDC are currently "tied" in terms of keeping score
If it requires 70 medical staffer to treat 1 Ebola patient, hospitals will be quickly overwhelmed in an outbreak
During an outbreak, many medical staffers will resign
Medical staffers are not being issued appropriate gear to handle BSL-4 biohazards
Why did health authorities put Dr. Brantly in a BSL-4 biohazard room, but they allowed Thomas Duncan to be treated in a regular hospital with no level-4 training or gear?
Michael Savage says CDC director Frieden should be arrested for criminal negligence
When the government says they have it under control, what they mean is they don't have it under control
There is still a window of opportunity to contain Ebola if we get honest about the threat
If Ebola infections in the USA reach 1,000 patients, we are probably beyond containment (unless some miraculous intervention is found)
Ebola cures are not as simple as those depicted in Hollywood movies
The Ebola vaccine is not being tested against Ebola
In an outbreak, you will need to provide for your own medical care
Drill this in: You will need to prepare in advance for your household medical needs
Mainstream America is not prepared for any real medical emergency
A lack of preparedness leads to panic
Getting prepared promotes calm and helps support your community
Many scientists believe "Human are the parasite, and Ebola is the cure..."
Ebola is a biological disassembly machine, an "anti-life" virus
Learn more from the Health Ranger at www.NaturalNews.com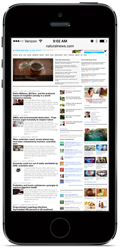 Natural News is now on Diaspora!
Related Articles
Recommended Alternative Media Websites: